Avoid a Late Fee and Hidden Charges
|
Avoid a late fee and hidden charges
To understand that what is a late fee and how to avoid hidden charges on loans and credit cards, read the terms. Before getting any loan or credit card there is a manual given by the lender. That says all the steps to avoid a late fee and hidden charges.
What is a late fee? How to avoid it?
As we know, whenever we take any loan or any credit in any form from a lender. There is always a fixed date to make the payment. Also, if you are not able to make the whole payment till that date, you can only make the minimum payment to avoid a late fee. So, any charges which a lender levies after the due date are late fee charges. In order to avoid a late fee, you should know your bill cycle, due amount and due date.
How to avoid hidden charges?
First, whenever you sign up for any credit from a lender, you should go through the manual carefully. As per the law, a lender and the borrower are bound to follow the terms and conditions of the agreement. For example, if it is a loan, it could be a prepayment penalty or transfer fee as the hidden cost. Also, a lender initially does not propose these charges to a borrower in many cases. Likewise, in a credit card, there could be an annual fee or maybe some extra fuel or commodity charges. So, it is your duty as a borrower that you should accept the agreement of any credit after checking it properly.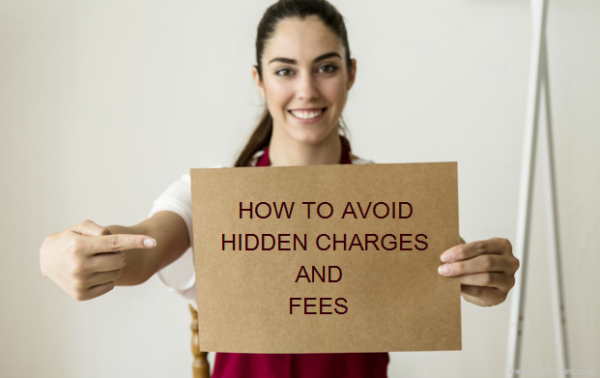 Cash loan or withdrawals from a credit card:
Generally, a credit card has a credit limit which has two divisions. 60-70% credit limit is the virtual limit of the card. Also, 20-30% is the cash limit of the credit card. So, whenever you withdraw some cash from your credit card, you have to be cautious to pay it on time. Because there are huge charges on cash late fee. The rate of interest gets calculated compounded. In fact, you should avoid to take out cash from a credit card. Obviously, this is an added advantage to a lender to charge a fee from the borrower. Therefore, you should utilize this facility when you do not have any other option with you.
Exceeding your credit limits:
In order to avoid a late fee and hidden charges on your credit cards, you should be aware of your credit limits. In most of the cases, People do not mind using their credit cards. Also, they exceed their credit limit. And the bank does not block the usage of the card at the time of swipe. In fact, the bank levies an extra rate of interest to overuse the card. As an idea, if a person has more than one credit card, he can transfer the balance from one to another. Instead of exceeding the card limit, the balance transfer is a wise idea. But the condition is, the user should have a balance transfer facility.
Using the card out of country or abroad:
In order to avoid a late fee and hidden charges, you should inquire about the services of the card. In a few cases, if it is not an international card, the card user has to pay an extra fee. Also, for using the cards in abroad locations, the bank needs to be notified. The bank may freeze the credit limit of the card due to the protection of the card. In every transaction, there is an exchange fee of currency. Also, the bank may charge you a loading fee. This loading fee generally does not show in the credit card statement. Therefore, it is really important to go through the terms and conditions of the card.
Avoid a late fee and hidden charges on your loan:
Precisely, when you borrow a loan, there are dates and days when you get to pay the instalment of the loan. As a borrower, it is your responsibility to keep the dates of repayments in your mind. In fact, always try to make the repayment of the loan a few days before the due date. As a result, this activity will help you to save your credit rating. This entire activity of making the loan repayments should be on time till the end. As a solution, you can fix a direct debit from your account to avoid a late fee and hidden charges. But, you always have to keep your account ready with the desired balance.
How to avoid dormancy fee?
In a few cases, there are lenders and banks who charge you fee if you do not use the credit card for a long time. Thus, you can call these charges as dormancy charges. Therefore, we should keep an eye on all our credit cards that whether they have been used after an interval. You will have to do it to avoid dormancy charges.
So, it is not very difficult to avoid a late fee and hidden charges on your cards, bills and loans. You just need to be cautious with due dates.
Read more:
How to Get Cash Loans No Credit Check?