Guide to Business Loans
|
Whether you're just starting a new business or want to grow your business, you'll almost always feel the need for more funds. To grow from a startup to an established firm, a business goes through many stages. At each stage, it requires money to pay its employees' salaries, to keep machinery and equipment running and for other miscellaneous expenses. A business can't always depend on the profits made to finance fixed and working capital needs. A simple way is to take out business loans. It's just like any other loan but it's for organizations and not individuals.
What are Business Loans?
Businesses need to constantly grow and expand. If you find your business short of funds, you can apply for business loans. They're very similar to normal easy loans, only these commercial organizations can borrow them. Individuals can't borrow such loans. With business loans, you can borrow a principal between £1,000 and £3 million. Generally speaking, you can repay the loan over a span of 1 month to 15 years. As is the case with individual loans, you have a choice- unsecured or secured loans. Unsecured loans are lent just on the basis of your credit history. While secured loans are lent on the security of business asset(s), for example, property, stock and machinery.
Do Businesses Have A Credit Rating?
Yes, businesses too have a credit rating like individuals. A business is an entity in the eyes of law, so every firm has a credit history and credit score. And it can affect whether your application for a business loan gets acceptance or not. If your company is a Limited company, it's important to keep your accounts up-to-date and file them in full. Other things you can do to improve your business rating are:
Borrowing and paying back loans on time
Filing accounts before the deadline
Conducting regular audits of your accounts
Completing questionnaires sent by credit agencies in full
If you're a new business, the entrepreneur's credit rating should also be in good shape
What Is the Use of Business Loans?
You can use a business loan for any purpose, as long as it's not for your personal use like buying a personal car, home, etc. The most common uses of these loans are for:
Purchasing stock of raw materials
Hiring new and talented workforce
Shifting to better premises
Paying off past debts
Buying new machinery and equipment
Undertaking expansion and diversification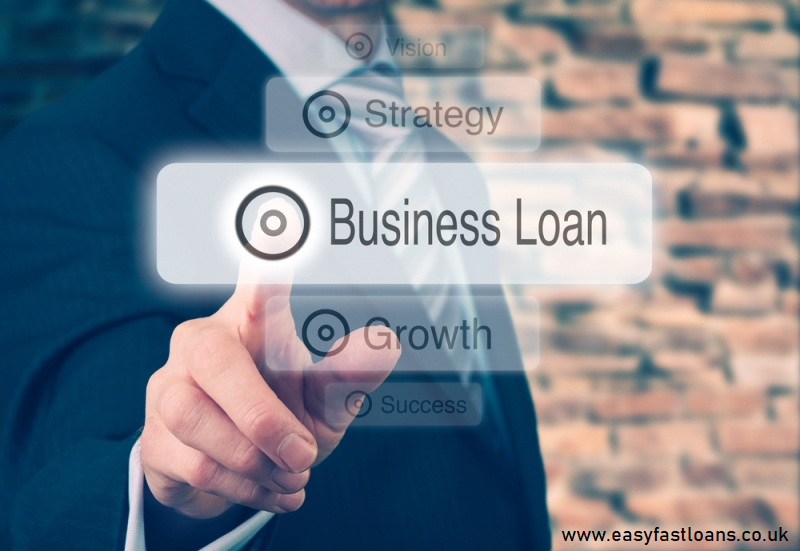 Can I Apply for Business Loans?
Businesses are of various types. Some are sole trading concerns whereas others are 'Limited' companies. A few types of business loans might be inaccessible due to the nature of your business. So check before you apply. For instance, startup loans by the government are available only to first-time entrepreneurs in the UK. Cash advance loans say that you should have been trading for a certain number of years to be eligible to apply. While there is no limit to the number of business loans you can take out, you'll have to prove that you'll be able to afford to repay each of them.
What are the Types of Business Loans?
Finance is available to a business in many forms. The most common ones include:
Bank loans:
A bank or building society can lend you money for your business needs. It's usually a lump sum that you pay back over a specific period of time. Most banks require a director's guarantee. That means if the business is unable to repay the loan, the directors will have to attach their personal assets.
Revolving credit facility:
This is a type of business loan that lets you borrow as and when you have a necessity of funds. You pay it back when you get funds again and interest on the amount you withdraw.
Peer-to-peer:
Investors looking for returns on their money give out peer-to-peer loans. These lenders may also ask for a director's guarantee.
Short term:
You can take a short-term loan if there is a temporary lack of funds in your business. They can be taken for a few days or months. Some lenders charge a monthly interest in place of annual interest. So double check how much you can afford.
Asset backed:
These are secured form of loans that have your business assets as collateral. You can borrow more with asset backed loans. If you don't pay back the loan, the collateral may be taken over by the lender. Typical business assets include land, machinery, property and stock of raw materials and finished goods.
Invoice finance:
This works slightly different than a cash loan. The lender- rather than lending a cash lump sum- purchases your outstanding invoices for a fee. They as those customers pay, the lender gets repayment accordingly. There are of two main types: factoring (the lender manages your sales and collects money directly from your customers) and invoice discounting (the lender release funds before your invoices are paid and you owe outstanding balance).
Working capital:
Working capital business loans are taken to maintain the cash liquidity of the business. You need money on a daily basis for paying wages, stationery costs, etc. This loan is not for the purchase of assets and requires a personal guarantee from the Company Directors.
Startup loans:
The UK government is encouraging business growth and development by offering startup loans to first-time entrepreneurs. This loan helps an entrepreneur fulfil his business goals and dreams. You could borrow upto £25,000 and pay it back over five years.
How Do I Pick the Right Business Loan?
Picking the right loan is very simple and ensures a business success if done step-by-step. Follow these steps and you're well on your way to the right business loan.
Before making any purchase or starting a new project, get a break-up of costs so that you know in advance how much you'll need to borrow.
Choose a suitable loan for your business after sifting through multiple deals.
Never go with the first lender who's ready to offer business loans. Shop around and compare.
How Can I Pay Back Business Loans?
Once the loan gets sanctioned, funds will be transferred to your account. Slowly you'll have to start paying back the loan. You can do this by:
Direct debit
Standing order
Direct from outstanding invoices
Set percentage of your cash takings-for cash advance loans
If you default on your loan repayments, the lender may charge you a fee along with more interest. This negatively affects your credit score as well.
Other Resources: