HBO Series Back With a Fresh Season 2018
|
HBO is a popular TV channel in the United Kingdom. For those who watch TV infrequently or are simply unaware, the channel telecasts original series in addition to the latest hit movies. Some HBO series 2018 have been hugely popular and are back with fresh seasons later this year. So, binge watch the earlier seasons of these shows to fully enjoy their coming seasons.
The Deuce
This 2017 series is set in the backdrop of the American sex-trade industry in the 70s. It comes from creators George Pelecanos and David Simon who have other successful HBO shows like "The Wire" and "Treme" under their belt. The porn business undergoes a revolutionary transformation from being under wraps to becoming a culturally accepted enterprise. New York in 1970 has stood out as an era infamous for its sleaze and crime. James Franco stars in a double role, as Vincent and Frankie Martino who are twins and navigate the sex business after acquaintance with a mobster. Maggie Gyllenhaal stars as Candy and skillfully uses her ambition and intelligence to scale heights in her chosen industry. Season 1 and 2 are out already and Season 3 is up for renewal.
The Young Pope
The Young Pope is a 2016 HBO series about a young American pope. It originally went on air on Italy's Sky Atlantic and came under puzzlement and even mockery in the media. Newly elected Pius XIII (Lenny Belardo) is young, charming and the first Pope in the history of America. His ascension is suspected to be a media strategy by the College of Cardinals. Meanwhile, in the Vatican, there are rumours that the church's leaders have chosen a contradictory and mysterious figure to guide them. The hero just proves them right. Belardo begins his reign with a negative outlook towards the Vatican stewards and relies largely on Sister Mary (Diane Keaton) for advice. Though leading billions of followers, the young Pope takes little interest in appearing before the masses. It's a single season show with 10 episodes.
Big Little Lies
Told from the perspective of three mothers Madeline, Celeste and Jane, this HBO series aired its 1st season in 2017. Set in the tranquil beachfront town of Monterey, Calif with doting moms, successful fathers and beautiful children living in stunning homes, it deserves all the credit it can get. But, all's not what it seems because this is a dark comedy of murder and mischief, haves and have-nots and fractured relationships fueled by rumours. Based on the same-titled book by Liane Moriarty, this HBO series explores society's myths regarding perfection, romanticization of marriage and sex, friendship and parenting. Nicole Kidman, Reese Witherspoon and Shailene Woodley star as the three "mothers of Monterey". In the upcoming Season 2 with seven episodes, Meryl Streep has joined the cast as Celeste's mother-in-law.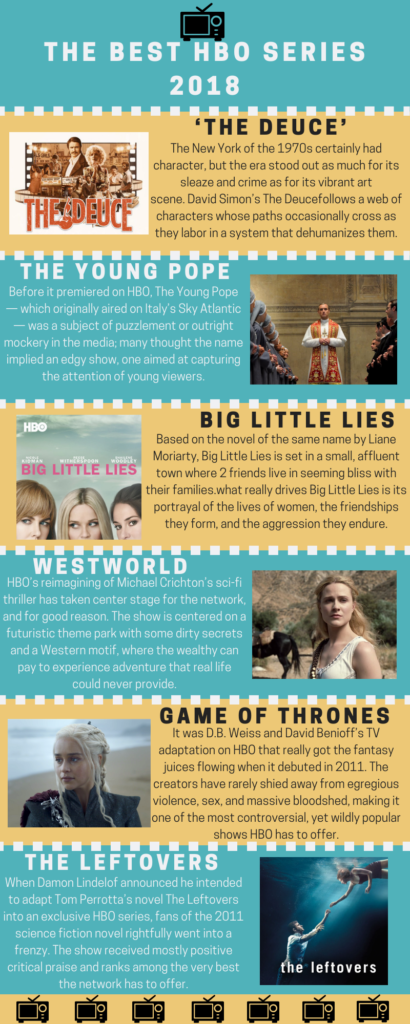 Westworld
Westworld has similarities to Michael Crichton's 1973 movie of the same name. Featuring an amusement park that only the rich can afford, Westworld is a park like no other. Managed by robotic hosts, visitors get the opportunity to live out their fantasies through artificial consciousness. No fantasy is illicit, causing no consequences to those who dream. This HBO series has writers Jonathan Nolan, Lisa Joy, and Halley Wegryn Gross and Evan Rachel Wood, Ed Harris and Anthony Hopkins and more in prominent roles. With 2 seasons behind it, it's getting renewal for Season 3.
Game of Thrones
Incorporating egregious violence, sex and massive spilling of blood, Game of Thrones (GOT) won millions of hearts with its debut in 2011. With seven seasons down, it's up for its last and final Season 8. R. R. Martin must have never imagined that his bestselling book series 'A Song of Ice and Fire' would be turned into this mind-blowing HBO series 2018. GOT is a medieval fantasy epic depicting two families in a deadly race to win the Iron Throne. Kings, queens, knights, renegades, liars and honest men- one will stop at nothing to conquer the Seven Kingdoms of Westeros. David Benioff and D. B. Weiss won acclaim for being the script writers. They'll also be the directors for the new season.
The Leftovers
True to its name, this HBO series deals with the lives of leftover families after 140 million people suddenly disappear in a global cataclysm. Three years later, when nothing can be "normal" anymore in Mapleton, NY, its residents struggle to maintain equilibrium. Grief has given rise to cynicism, paranoia and madness. People are joining a cultlike group The Guilty Remnant. Kevin Garey (Justin Theroux) is a police chief entrusted with the responsibility of keeping peace between the cult and townspeople. But, he has his own familial concerns as his daughter alternates between apathy and rebellion and his son strikes up a friendship with a charming prophet. The Leftovers is based on Tom Perrotta's bestselling novel.