Top 10 Movies of 2018 (October)
|
This year has seen a lot of blockbuster movies hitting movie screens across the UK. Superhero, horror, spy and sci-fi movies are ruling hearts of movie-goers. Here are the top 10 latest movies of 2018 you shouldn't miss for anything.
Avengers: Infinity War
Avengers: Infinity War is the ultimate and most deadly showdown of all time. Anthony and Joe Russo bring you yet another action and adventure film from the sets of Marvel Studios. The leading roles have been played by Robert Downey Jr, Chris Hemsworth, Mark Ruffalo, Chris Evans and Scarlett Johanson. Iron Man, Thor, the Hulk and the entire team of Avengers unite to battle their most powerful enemy Thanos. The plan is to stop Thanos from collecting the six Infinity Stones that will help him impose his twisted will on reality. Avengers: Infinity War released on 26 April.
Black Panther
It's the ninth highest-grossing film in the world. Black Panther released on 12 February is one of the latest English movies with Ryan Coogler as the director. This is yet another action film that has set hearts on fire. After the events of "Captain America: Civil War", T'Challa (played by Chadwick Boseman) returns to his isolated and technologically advanced kingdom Wakanda to take his rightful place as King. However, the reappearance of an old enemy tests the mettle of the superhero as King and Black Panther. A conflict so powerful, it can put the fate of Wakanda and the entire world at risk.
Incredibles 2
One of the family movies of 2018, Incredibles 2 is the sequel to "The Incredibles". It's a great animated movie to watch with your kids. Written and directed by Brad Bird, Helen (voice of Holly Hunter) takes centre-stage in this superhero family. She leaves Bob at home with Violet and Dash in order to perform heroic acts of supposedly "normal" life. The transition is tough for the family, more so as they haven't discovered baby Jack-Jack's emerging superpowers yet. This kids' movie shows that it's difficult even for the Incredibles to work together with Frozone to defeat the villain.
Deadpool 2
Deadpool 2 features Ryan Reynolds and Josh Brolin in opposite roles. Also seen are Zazie Beetz and Morena Baccarin. It hit floors on 16 May. Having David Leitch as the director, the story revolves around Deadpool, Russel and Cable. Deadpool meets Russel, an angry young mutant living in an orphanage. Cable is a genetically enhanced soldier from the future. The teenage mutant becomes his target and Deadpool needs help to save the day. Joining forces with Bedlam, Shatterstar, Domino and other powerful mutants, he has to protect Russel from Cable's advanced weaponry. An action and adventure plus comedy new movie you should watch.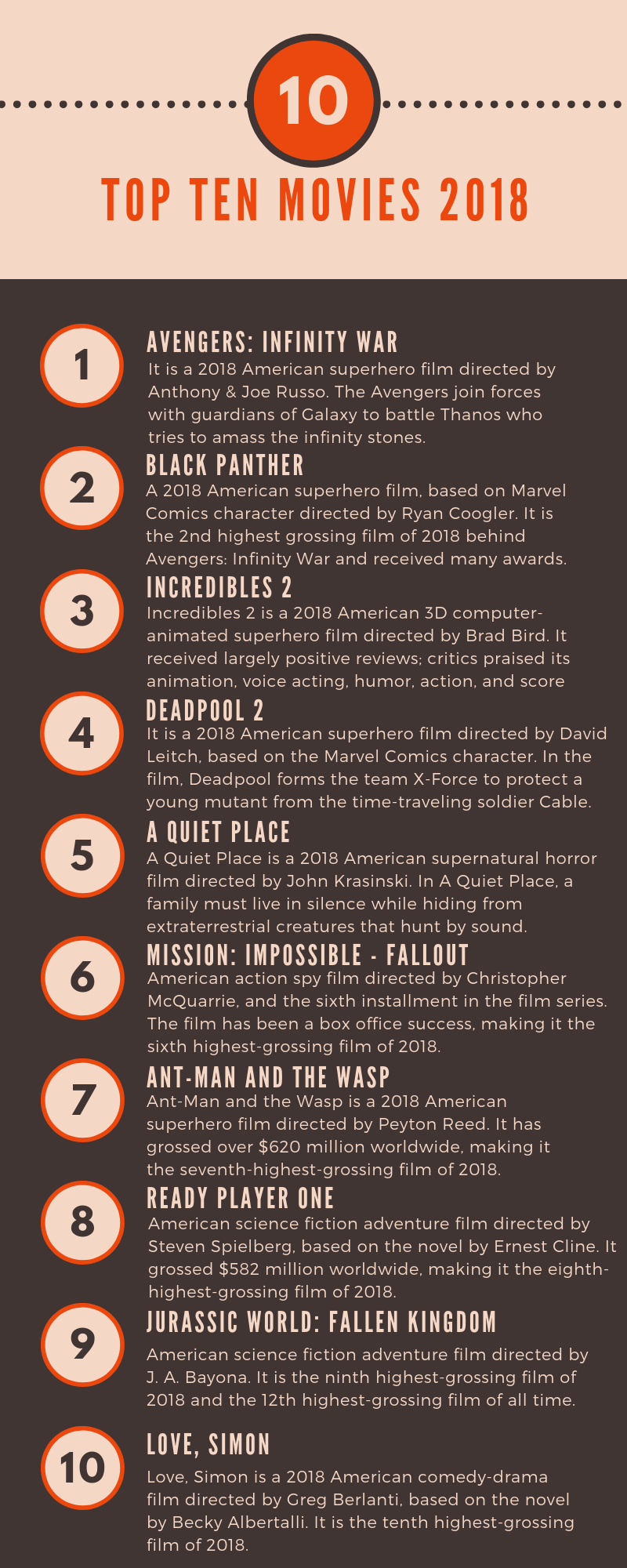 A Quiet Place
A horror movie that has secured its place among the top movies 2018 is "A Quiet Place". John Krasinski is the director and also a part of the cast. This movie came to UK theatres in April this year. It's promotion slogan, "If they hear you, they hunt you" is widely popular. If the family's lives are precious to them, they have to navigate their lives in silence. Their survival is threatened by mysterious creatures that hunt by sound. A Quiet Place is a family movie full of mystery and suspense.
Mission Impossible: Fallout
Among the new movies, Mission Impossible: Fallout released in July finds its place. A Tom Cruise starrer, it is directed by Christopher McQuarrie. Ethan Hunt and the IMF together join forces with CIA assassin August Walker in a race against time. A group of terrorists led by John Lark plan to simultaneously bomb the cities of Vatican, Jerusalem and Mecca with three plutonium cores. But, the weapons go missing and Ethan Hunt has to prevent it from reaching wrong hands. Mission Impossible: Fallout is the sixth highest-grossing film in 2018.
Ant-Man And The Wasp
This movie is directed by Peyton Reed and stars Paul Rudd, Evangeline Lily and Michelle Pfeiffer in the main roles. Another film from the Marvel Cinematic Universe, Ant Man and the Wasp features superheroes who can shrink. As Scott Lang is trying to balance his responsibilities as a Superhero and father, Hope van Dyne and Dr Hank Pym present him with a new mission. Scott must fight alongside the Wasp to uncover secrets hidden deep in the past. This latest action movie released in July.
Ready Player One
Ready Player One is a film adaptation of Ernest Cline's bestseller of the same name. Shot by Steven Spielberg, it's a future-oriented film set in 2045. The world is on the verge of chaos and collapse. But, salvation is near in OASIS, an expansive VR universe created by James Halliday. He dies leaving his fortune to the first person who finds a digital Easter egg hidden somewhere on the OASIS. The contest begins and Wade Watts is hurled into a reality-bending treasure hunt. The film went on floors on 28th March 2018.
Jurassic World: Fallen Kingdom
One of the series of Jurassic Park movies, this is a thriller equal in fantasy and adventure. J. Y. Bayona really exceeds himself with Fallen Kingdom. It's three years since the Jurassic World theme park was destroyed by dinosaurs. Isla Nublar now lies abandoned by humans. Owen and Claire decide to rescue the remaining dinosaurs when they learn of a dormant volcano about to become active. They come across various new species of gigantic raptors and a conspiracy threatening the extinction of the entire planet. A movie suitable for kids, it released in June.
Love, Simon
This film is the story of a teenager who finds that he's gay. Life is complicated for 17-year old Simon because his family and friends are unaware of this side of him. He gets to know a classmate online but identity is anonymous. Greg Berlanti takes you on a journey where you find yourself and fall in love. Love, Simon is hilarious, terrifying and life-changing.