Travel Tips- Pros & Cons of Travel Money
|
Planning to take off on a holiday and looking for travel tips? We've got you covered. To talk about finances and travel, you need money to pay everywhere. Thus, sorting it out on the home ground itself is not a bad idea. Banks in the UK have made getting various types of travel money like cash, cards and traveler's cheques easier. To make the best memories, it's necessary to have the right combination, not to forget travel insurance. Here, you can explore what are the pros and cons of every type of money you'd likely take on your trip.
Foreign Currency
You should always have currency in cash of the respective country you're travelling to. Say, dollars if you're going to USA or euros if you're visiting an EU country. That said, don't carry too much foreign currency as travel money as it may get stolen or come under questioning at airport customs.
Where to buy:
Banks
Post Office
Travel agents
Forex brokers
Specialist online providers
Safety level:
Carrying too much cash isn't a safe thing to do. Instead, carry travel money in cards and traveler's cheques. Travel insurance only covers cash upto a limit of £500. Check your policy for this amount as your insurer a higher or lower amount. It's worth checking for ATMs and whether cheques are accepted before leaving.
Debit Card
Debit cards are linked to your bank account and allow easy withdrawal of money when you're travelling.
Pros:
Cons:
2% on amount withdrawn plus currency exchange costs
Absence of ATMs in that country
Safety level:
One of the best travel tips is to carry debit cards. These cards protect you against fraud. You can claim compensation if anybody makes transactions with your card. But, you won't get protection for faulty goods you buy on travel.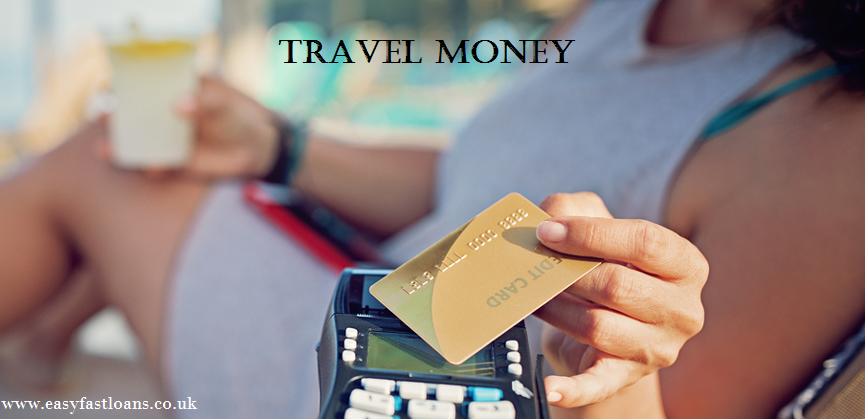 Credit Cards
Credit cards are great as travel money as they're usually the cheapest and find wide acceptance all over the world.
Pros:
Worldwide acceptance
Zero fees on transactions abroad (by some card providers)
Purchase protection if you're card gets stolen or goods turn out damaged
Cons:
3% charge on transactions
Interest chargeable if used to withdraw money
Not paying back card balance in full accrues interest
Not useful where retailers have a minimum card payment amount
Know Why Credit Cards Are Better Than Debit Cards
Prepaid Cards
Another form of travel money- prepaid cards are an excellent alternative to the traditional traveler's cheques. You load money onto the card and spend it like cash wherever you go.
Pros:
You can spend only as much as you have on your card
Option to pre-load with multiple currencies if you're visiting many countries
Any balance left over can be used in the UK
Cons:
Charges to top-up or withdraw money from an ATM
Extra charges like monthly fee and unused card in a specific period
Replacement of prepaid card costs £5 to £10
Safety level:
They're much safer when compared with traveler's cheques as the money on the card gets protection in case of loss or theft. Prepaid cards also aren't linked to your bank account, thus helping you stay within your budget.
Traveler's Cheques
Pre-printed with fixed amounts, you can easily use them as travel money overseas. When you get them, you'll have to sign on each one. While paying, you write the name of the person who should get the money and countersign the cheque.
Where to buy:
Banks
Post Office
Bureaux de change
Travel agents
Specialist online providers
Pros:
Good for budgeting
No need to carry lots of cash
Cons:
Difficult to exchange these cheques for cash
Fees to buy cheques and commission to use them
Safety level:
They're quite safe as you can get a replacement within 24 hours if lost or stolen. Some travel tips- keep the receipt handy; don't countersign until you use them; note down the serial number of cheques and contact info about the company.
Useful Travel Money Tips
Take the right combination of money. Having small change and cards is useful.
Use online currency exchange comparison sites to buy travel money before you go. At the airport, you may have to pay more to convert your pounds.
Always keep the card company's helpline number with you, in case things go wrong.
A good travel tip is to avoid credit cards that charge you for payments made abroad.
Let your bank know that you're going outside UK on holiday. Else your card may be blocked for fraudulent use.
Pay off your credit card in full when you return to avoid paying high interest.