Your Child's First Financial Steps
|
As a child grows older, it stumbles but finally learns to walk without support of any kind. In the same manner, every child should stand on its own feet when it comes to finances. Bank accounts for kids allow you to save money for your children's future. When kids manage finances and money on their own, it develops them into responsible and mature citizens. This article covers:
What are bank accounts for kids?
What is their eligibility?
How can kids manage their bank accounts?
Where and how to apply for kids bank account?
Are there any charges to operate these accounts?
What are Bank Accounts for Kids?
Banks in the UK offer accounts both for adults and children. Minors can also have their own current accounts but they come with a few restrictions. These accounts can be used for:
Receiving money:
Your child can receive money when somebody like a parent or employer deposits money into their account. In the UK, teenagers may already start working and get paid through PAYE as per child employment rules. They are now able to receive money into bank accounts for kids by cash, cheque or bank transfer.
Making payments:
In case your child is not yet of 16 years, banks may ask your permission to issue your child a debit card. With this debit card, they can withdraw money from ATMs, shop online and in stores.
Net banking:
Net banking means online transfer of money from one account to another. With the use of the Internet, one can do many things like check current account balance, move money between accounts or even send money.
Direct debit:
It's possible to set up direct debits for regular expenses like phone bills.
What Is Their Eligibility?
There is just one eligibility criterion that banks ask for. Your child should be at least 11 years of age. Between the ages of 11 and 18, he or she can manage the account as a minor. After children cross their 18th birthday, bank accounts for kids are automatically upgraded to adults' accounts.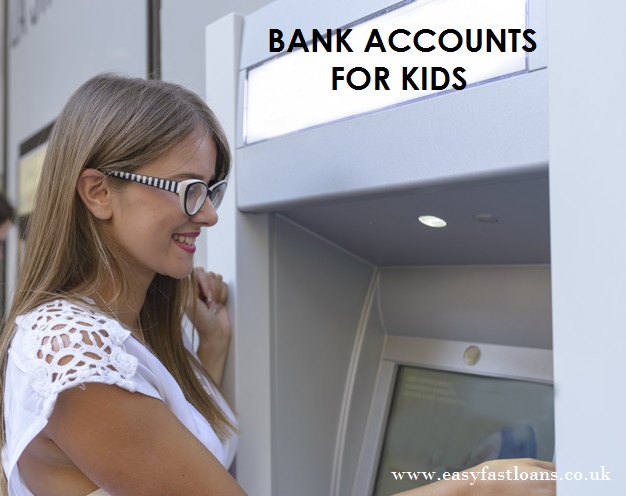 How Can Kids Manage Their Bank Accounts?
As the person operating the bank account isn't an adult, a kids bank account is fairly simple. Here are some useful tips they can use:
Checking Account Balance
Login on the bank's Mobile Banking
Set up text alerts
Keep track of your statement online or via post
Visit the nearest bank branch
Call up your bank
Check at an ATM
Mobile Banking Features
Make payments to individuals or companies
Check your balance
Transfer money to accounts
Set up, change and cancel standing orders
File a report of a missing debit card
Securely message your bank
Withdrawing Cash from an ATM
Put your debit card into the machine
Enter your unique PIN number
Check your kids bank account balance
Enter the amount you need
Collect your cash and card
Where to Apply for Kids Bank Account?
Before you apply for a bank account for your child, it would do you good to consider some points on the basis of which banks differ.
Bank branch and ATM:
Having a branch and ATM of the bank in your locality makes it easier to manage your pounds. Also, if you have queries, you can walk down and talk to the personnel directly.
Debit card and Internet banking:
Today, almost all banks are online and offer free debit cards and Internet banking. If a particular bank doesn't have these, consider looking elsewhere.
Minimum age limit:
Some say that a minor should be at least 11 while others don't allow individuals under 16 to open bank accounts for kids.
Minimum balance:
You might have to pay extra charges if you fail to maintain a minimum balance in your account.
Special privileges:
You should check for additional privileges like interest on balance, cash back and freebies.
How to Apply?
You can apply online in just a few minutes. All it needs is submission of the application. You may be required to visit in person alongwith your documents.
Are there any charges to operate these accounts?
There are no monthly fees or overdrafts. Any interest is paid without deducting tax on it. However, for your own peace of mind, verify this with your bank.
Read more:
Life Insurance for Mums